Last week, I took a whirlwind of a trip to St. Louis for the wedding of my best friend and former roommate, Amelia. Turns out I was the photographer as well as the hair and makeup artist. It was busy, but everything fell into place perfectly and the ceremony (at the
Botanical Gardens
) was beautiful. It snowed the night before, which made for a blizzard-cold walk to the building, but a gorgeous backdrop to the wedding itself. Once I'm finished editing the actual photos of the trip, I will post a few for your viewing pleasure.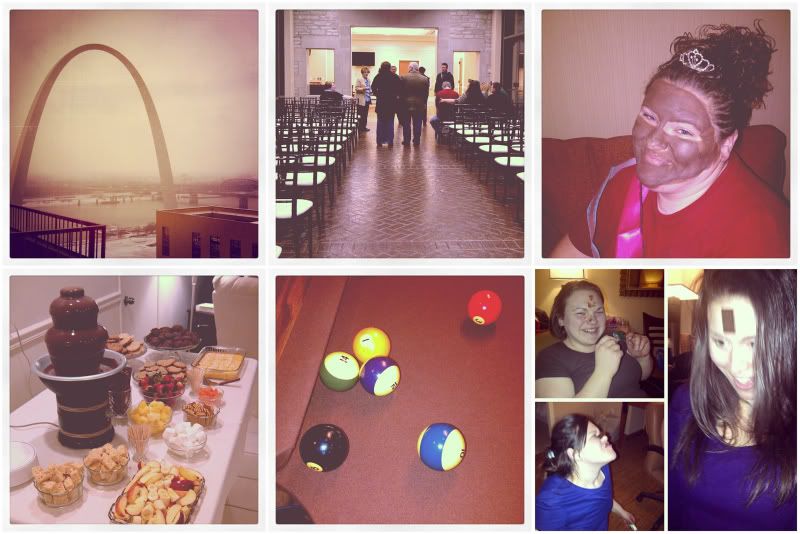 The view from our hotel suite was unforgettable; the Arch was in our backyard! The night before the wedding, we gave the bride-to-be a spa experience complete with a mud mask and foot massage while we, the friends, played silly games with chocolate on our foreheads (bottom right). Over the next 24 hours, we had rehearsals and fondue parties (topped off with multiple games of pool). It was so much fun meeting so many new friends and seeing Amelia so happy! Congratulations, girl!

Before driving home, I just had to stop by the big city mall and visit none other than
Anthropologie
(along with a few other stores that we Springfieldians are still being deprived of). When I walked in, they had huge canvases lined against the walls as artists painted and drew. It was so fun to watch! I managed to make it home with a few treasures from the store, such as these
Penguin book-cover postcards
. I love looking through them and seeing so many familiar and unfamiliar titles that have been released through the decades!