One of my best friends from school, Hannah, has a
super cute blog
. And the other day, she just HAD to post a
recipe for homemade peanut butter cups
. So I made them Friday night and, oh my goodness, Hannah... What have you done to me?!
It's a good thing the recipe only makes a dozen or so, because these things are too friggin' delicious.
Get your chocolate mixture (chocolate chips, peanut butter, salt) in a double-boiler and start melting it down.
Meanwhile, get your peanut butter filling ready (pb, graham crackers, powdered sugar, salt).
When your chocolate is melted, spoon a little bit into cupcake liners and spread it up onto the sides (so the peanut butter will be completely surrounded).
Side note: If you are a perfectionist and hate messes, this step may drive you insane.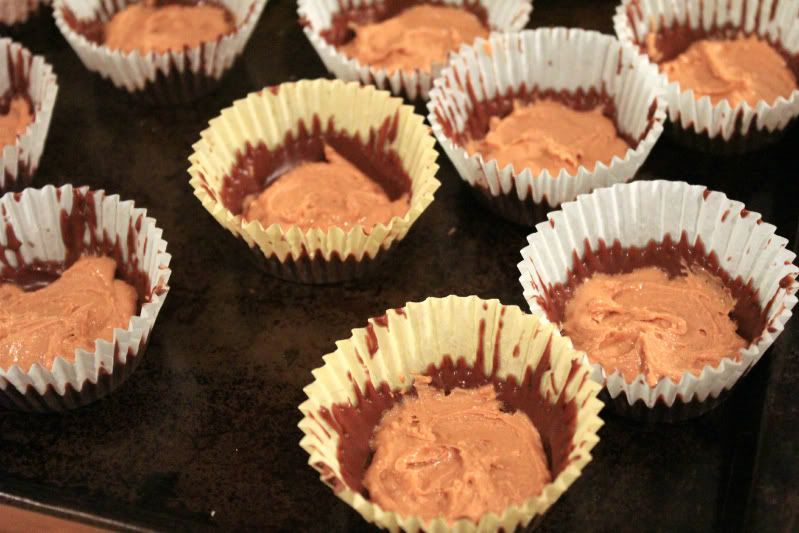 Mix the peanut butter together until creamy-yummy-goodness is created. After refrigerating your chocolate for about 20 minutes, spoon in some of the pb mixture into each cup. Then, put it back into the fridge for another 20 minutes to harden up.
Now, spoon the rest of your chocolate on top and even it out so all the peanut butter is covered. And, you guessed it, refrigerate for another 20 minutes to an hour. Depending on how impatient you are at this point.
After leaving them in the fridge for a while, I actually stuck a few in the freezer for about ten minutes before eating them. I love my chocolate candy to be super cold. Gabriel prefers his to be almost melting. Opposites attract, yeah?
And then... ohhhhh... bite into one of your homemade peanut butter cups and die of happiness.
Thank you so much for posting this recipe, Hannah! I don't care if I eat all of these before Monday. I love you for making me love them. :)
(The full recipe can be found in the above link to Hannah's blog.)